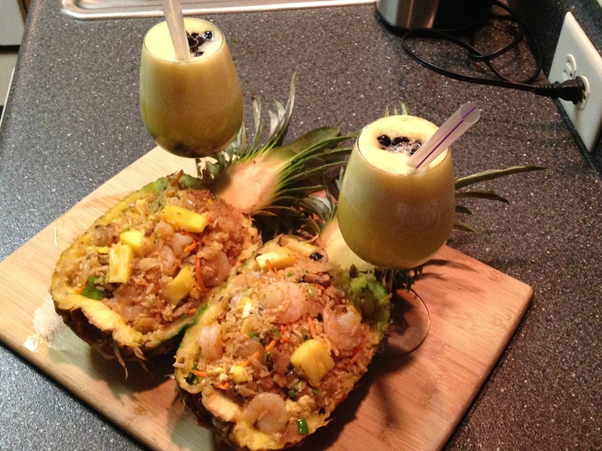 Are you inviting someone special over for dinner but have zero ideas about making this evening unforgettable? We have conducted a few ideas about creating the best atmosphere and cook a marvelous diner with a minimum of preparation!
How to Create a Social Atmosphere
Dining Room Decoration
First, create a romantic atmosphere with the help of soft light. Do not overload your table with too many decorations. Keep it classy. If you have a fireplace, now is a good time to light it and enjoy it. A good wood fire is always very romantic.
The Decoration of the Table
– Use your most beautiful dishes, take out the champagne flutes, whatever you use for special occasions.
– Candles, especially the scented ones.
Flowers Are a Must
– You can sprinkle rose petals on a white tablecloth and around the room.
– A bouquet of red roses in a vase. Of course, you should offer this bouquet to your partner when she arrives. Know that the red roses symbolize passion, while pink means tenderness.
Improvised Picnic 
You can arrange it in the living room. Spread a tablecloth on the floor (in front of the fireplace if you have one) and prepare fruits and your most beautiful dishes. Or go out if the weather is sunny and have a lovely evening in the city hills. Your woman will be glad if you take a few photos of her in that surrounding at the golden hour. What can be more romantic than a picnic dinner with champagne and your favorite person?
What About the Outfit?
Dress in your most classy outfit to welcome your darling. And let the lady know about the dress-code, let her wear her best sexy party outfit (the pretty black dress is an all-time classic, of course). Do not forget about accessories, like a watch and the matching socks. Add a final touch with a perfume. Chances are, you know what scent makes your woman go crazy, this is the perfect occasion to put it on.
Romantic Playlist for a Romantic Dinner
You can find selections of the most romantic jazzy music on the Internet, but nothing will work as high as your personalized playlist. Add that one "your" song to it, take half an hour before the meeting to arrange what you will be listening to. Take care of the quality sound and the order of songs. Put the energetic ones at the beginning and the most romantic in the end. Then, you will finish your perfect romantic date with a slow dance, which may grow into a no less romantic joint bubbly bath taking.
Easy Recipes for a Night Dinner 
These three meals will impress any single Ukrainian woman and leave a pleasant impression. If you ever wondered how to conquer a girl, be sure that her heart lies through her stomach! 
Porcini mushroom pie recipe
One roll of puff pastry
400 g small porcini mushrooms
One tablespoon minced garlic (fresh or frozen)
Two tablespoons chopped parsley (fresh or frozen)
60 g freshly grated Parmesan
1 tablespoon walnut oil
One salted egg yolk
freshly ground pepper
1. Preheat the oven to 210°. Take the dough out of the fridge and cut it into four parts.
2. Place them on the baking sheet, pierce them with a few fork strokes, brush them with egg yolk, and bake for 10 minutes.
3. Meanwhile, quickly rinse the porcini mushrooms and slice them into thin strips.
4. Take the pies out of the oven, put the slices of porcini mushrooms on top, sprinkle with garlic and parsley, salt, pepper, sprinkle with Parmesan and return to the oven for 7 to 8 min.
Cauliflower carpaccio 
One small cauliflower
Four very thin slices of smoked breast
One handful of arugula
One piece of Parmesan (50 g)
Two small white onions with their green stem
8 pitted black olives
1 tsp. balsamic vinegar
4 tbsp. olive oil
salt and pepper
1. Preheat the oven to 180°. Place the breast slices between 2 baking trays to keep them flat. Bake for 10 min, then leave to cool on paper towels.
2. Cut cauliflower bouquets into thin slices, removing the stems. Cut the olives in two. Cut the Parmesan cheese into shavings.
3. Peel the onions, remove 2/3 of the green and finely chop them. Mix the vinegar and oil with salt and pepper with a fork. Pour this sauce over the cauliflower.
4. Decorate with arugula leaves, Parmesan cheese, and bacon.
Chocolate, ginger, and lime tarts
Shortbread dough
100 g dark chocolate pastry
10 cl liquid cream
1 tsp grated fresh ginger
the juice and zest of a lime
1. Preheat the oven to 200° C. Roll out the shortbread dough and cut it into small disks. Place them in the same size tart molds. Put in the oven and cook for 10 to 12 minutes.
2. Prepare the chocolate ganache. Boil the cream in a saucepan. Remove from the heat and add the coarsely crushed chocolate, mix with a wooden spoon until the chocolate is smooth. Add the grated ginger and lime juice and mix well.
3. Garnish the cooked and cooled pastry bases with chocolate ganache. Place the tarts in the refrigerator.