Muhammad Ali and Cleveland Williams – Nov. 14, 1966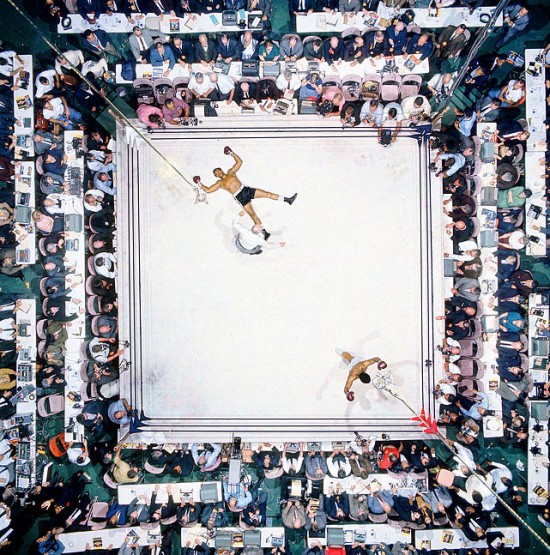 Ali knocks out Cleveland 'Big Cat' Williams in three rounds at the Houston Astrodome to defend his heavyweight title in November 1966. The bout drew a record indoor crowd of 35,460.

Jacques Plante – Canadiens at Rangers, Dec. 18, 1957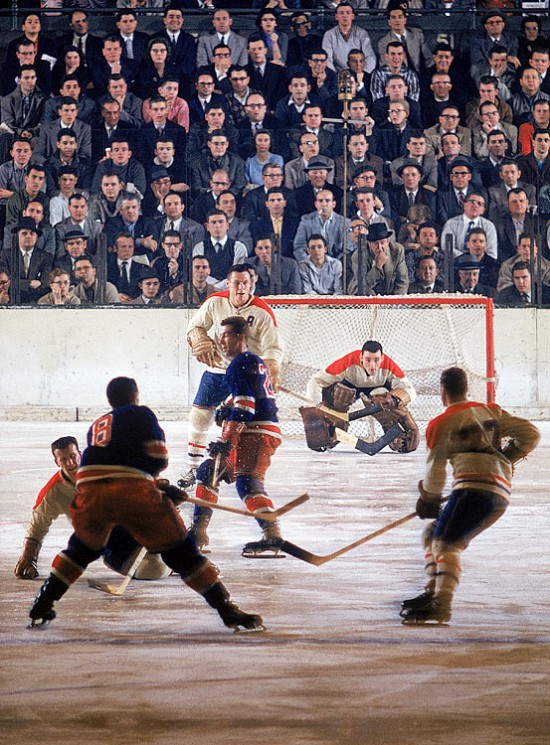 Montreal Canadiens goalie Jacques Plante surveys the ice without a mask during a game between the Canadiens and the New York Rangers at Madison Square Garden. Plante was the first NHL goalie to wear a goaltender mask on an everyday basis, a practice he started during the 1959-60 season.
Billy Kilmer and Manny Fernandez – Super Bowl VII, Jan. 14, 1973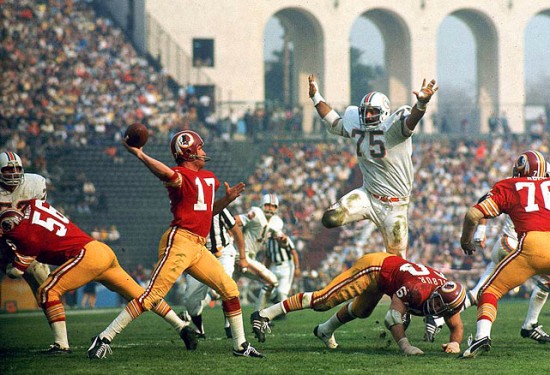 Dolphins defensive lineman Manny Fernandez (75) hurdles a Redskins offensive lineman in pursuit of quarterback Billy Kilmer (17). Fernandez would finish the game with 17 tackles as the Dolphins defeated the Redskins 14-7 to become the first and last team to finish an NFL season undefeated.
Alan Ameche – NFL Championship Game, Dec. 28, 1958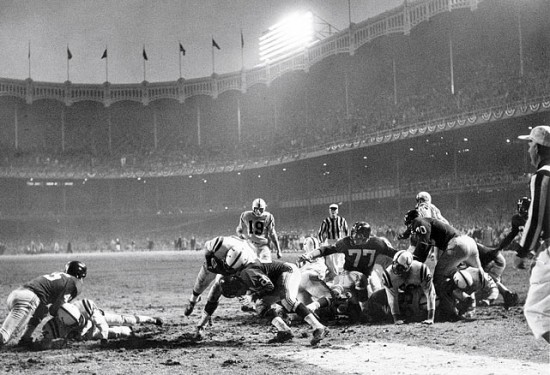 Baltimore Colts fullback Alan Ameche plows through New York Giants defensive back Jim Patton for the winning touchdown in overtime of the 1958 NFL Championship Game, otherwise known as `The Greatest Game Ever Played.'
Randy Moss – Vikings vs. Steelers, Dec. 22, 2001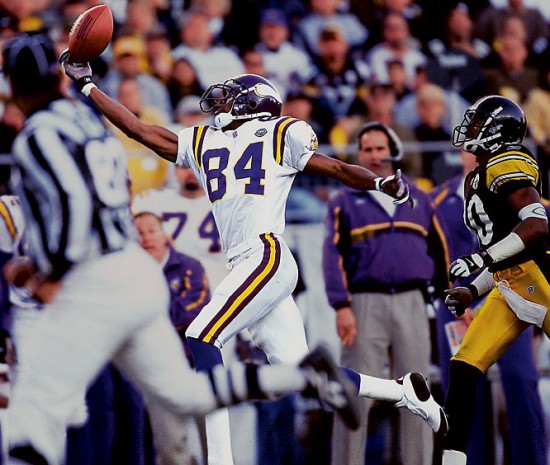 Vikings wide receiver Randy Moss makes a fingertip catch for a 62-yard completion during the fourth quarter of a 21-16 Minnesota loss to Pittsburgh.
Bill Russell and Wilt Chamberlain – April 5, 1968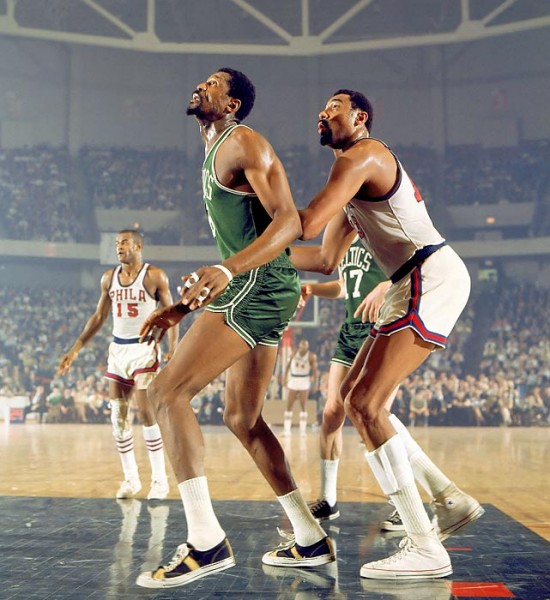 Two giants of the NBA, Bill Russell of the Boston Celtics boxes out Wilt Chamberlain of the 76ers during a game in Philadelphia.
Babe Ruth – 1926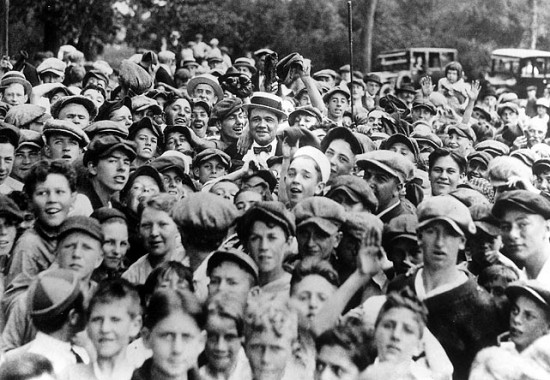 New York Yankees outfielder Babe Ruth, the Great Bambino, spends time with some fans. The 1926 season was one of Ruth's best as he hit .372 with 47 home runs and 146 RBI.
Julius Erving – January 1977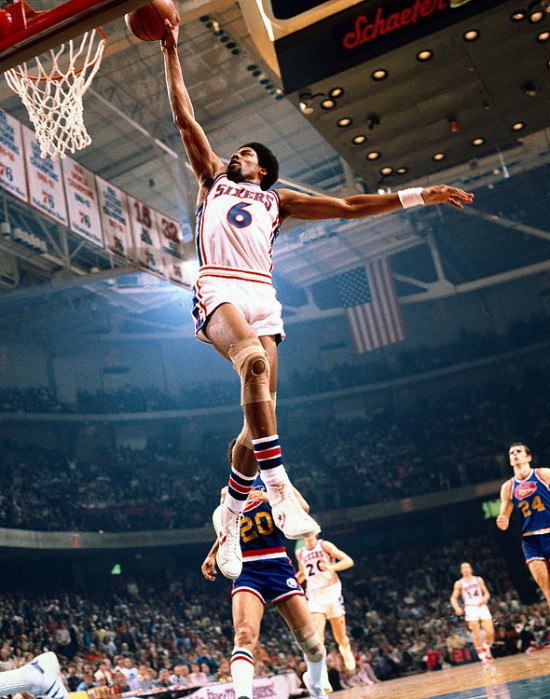 Philadelphia 76ers forward Julius Erving gets full extension on a one-handed dunk against the Denver Nuggets.
Randy McMichael – Saints at Dolphins, Aug. 15, 2002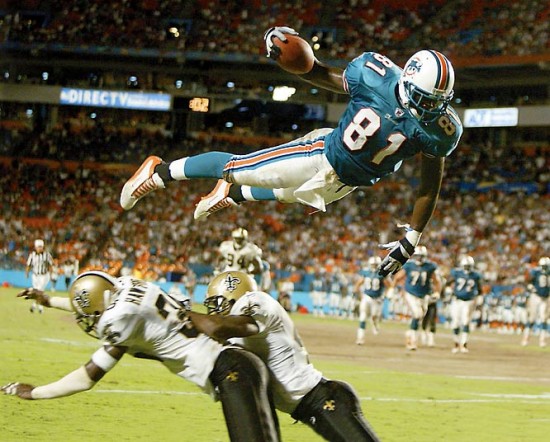 Dolphins tight end Randy McMichael soars over Saints defenders Michael Hawthorne (left) and Mel Mitchell to score a touchdown during a preseason game. The rookie tight end started all 16 games and caught 39 passes for 485 yards and four TDs during the season.
Antwaan Randle El – AFC Wild Card playoffs, Jan. 5, 2003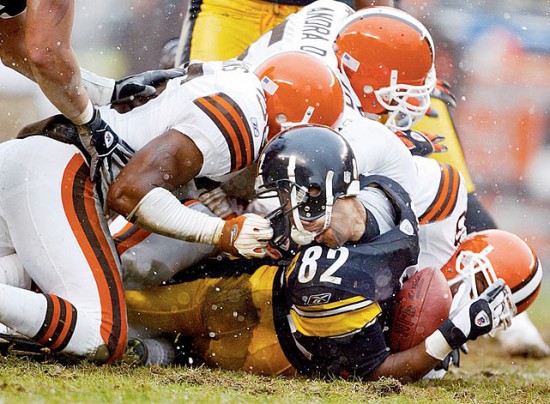 Pittsburgh receiver Antwaan Randle El has his head turned around as Chris Akins (36) of the Cleveland Browns is called for face masking. The Steelers defeated the Browns 36-33 during the AFC Wild Card Playoff game on Jan. 5, 2003, at Heinz Field in Pittsburgh.
Dennis Rodman – Pacers at Bulls, March 7, 1997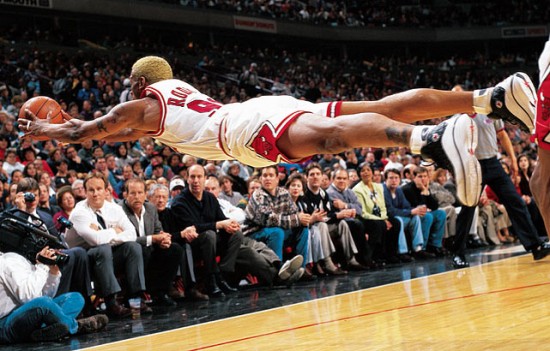 Chicago Bulls power forward Dennis Rodman goes horizontal for a loose ball during a game against the Pacers at the United Center in Chicago, Ill. Rodman won his sixth rebounding title during the 1996-97 season averaging 16.1 total rebounds a game.
Bob Cousy – Pistons at Celtics, Nov. 19, 1955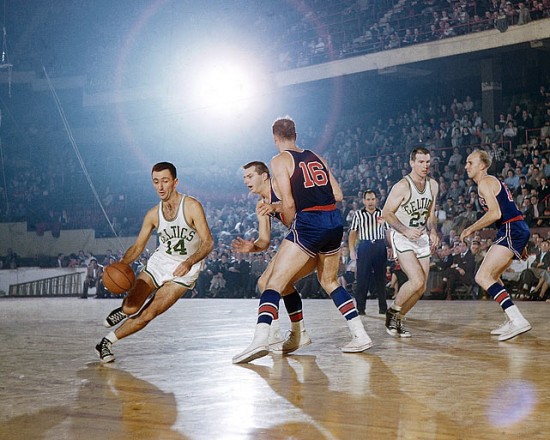 Boston Celtics point guard Bob Cousy drives by two Fort Wayne Pistons defenders during a game in 1955. Cousy's unorthodox style, featuring behind-the-back dribbling and no-look passes, stood in marked contrast to the rest of the league, which was then dominated by a more fundamental style of play.
Maxwell Fornah and Victor Musa – Sierra Leone, April 6, 2006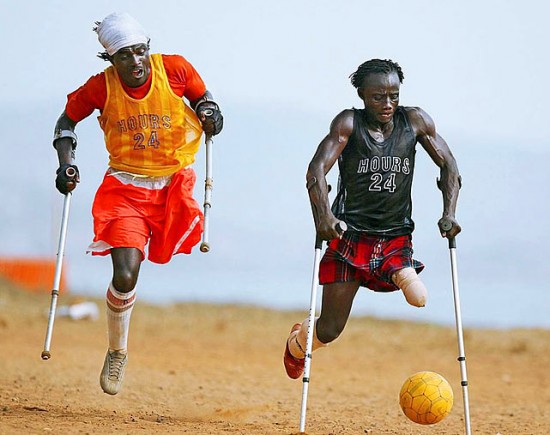 The members of the Single Leg Amputee Sports Club of Sierra Leone chase for the ball in Freetown. A brutal civil war left more than 6,000 amputees in Sierra Leone.
Carmen Basilio and Tony DeMarco – Nov. 30, 1955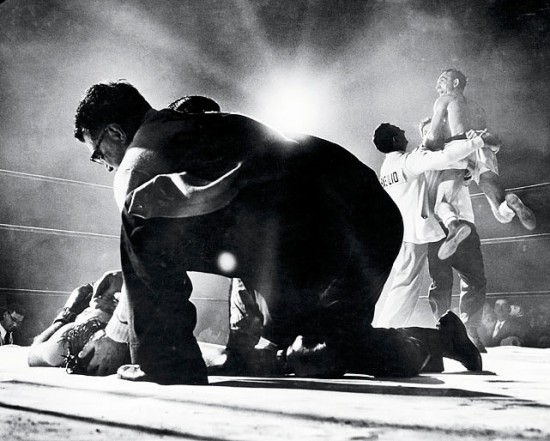 Carmen Basilio (right) celebrates with his cornermen after knocking out Tony DeMarco (left) in the 12th round for the world welterweight title.
Bobby Martin – Belmont High at Colonel White High, Sept. 24, 2005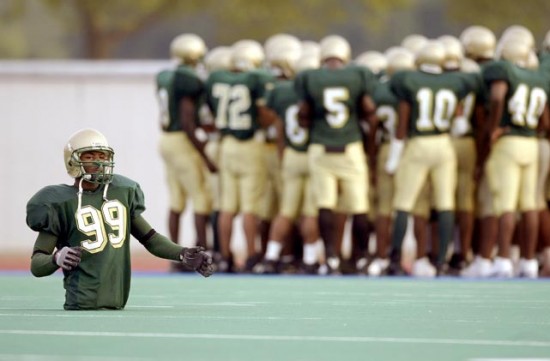 Three-foot, 112-pound Bobby Martin played on punt and kickoff coverage and was the backup varsity noseguard for Dayton's Colonel White High. Born without legs, he can't wear prosthetics because he has no thighs to affix them to.
Casey Sanders and Julius Peppers – Chapel Hill, N.C., March 4, 2001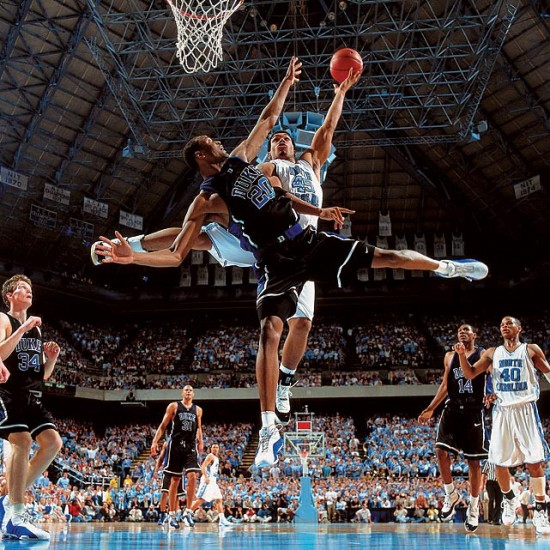 Casey Sanders of Duke (20) tries to stop North Carolina's Julius Peppers at the Dean E. Smith Center. No. 2 Duke defeated No. 4 North Carolina 95-81.
Bobby Orr – Stanley Cup finals Game 4, May 10, 1970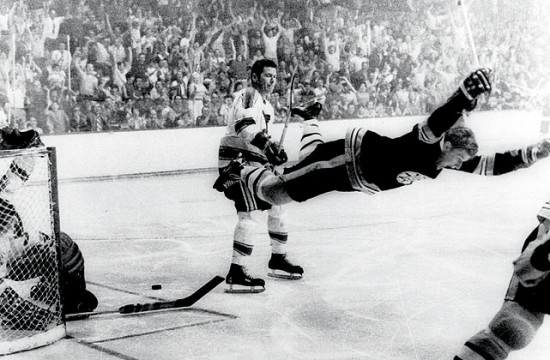 Boston Bruins defenseman Bobby Orr celebrates his Cup-winning goal during overtime of Game 4 of the Stanley Cup finals against the St. Louis Blues. Orr would win MVP honors, and the victory was Boston's first Cup in 29 years.
David Tyree and Rodney Harrison – Super Bowl XLII, Feb. 3, 2008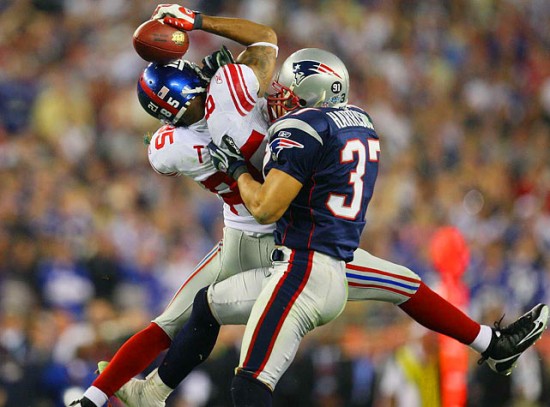 New York Giants receiver David Tyree (left) secures a catch with his helmet as Rodney Harrison (right) tries to wrestle him to the ground. Tyree's catch was instrumental in the New York Giants' upset of the previously undefeated Patriots, 17-14.
Ervin Kovacs – Paralympic Games, Sept. 21, 2004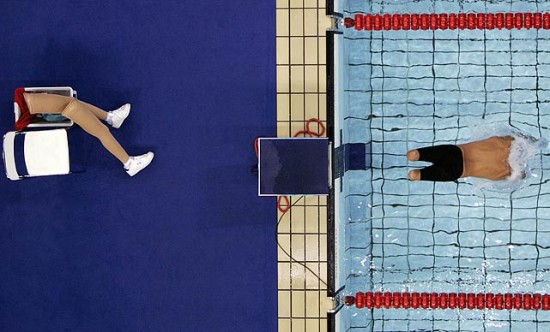 Hungary swimmer Ervin Kovacs starts the 200-meter freestyle SM5 at the Paralympic Games. Kovacs took the silver medal in the race, finishing behind only China's Junquan He.
Vasily Alexeyev – Clean & Jerk, January, 1969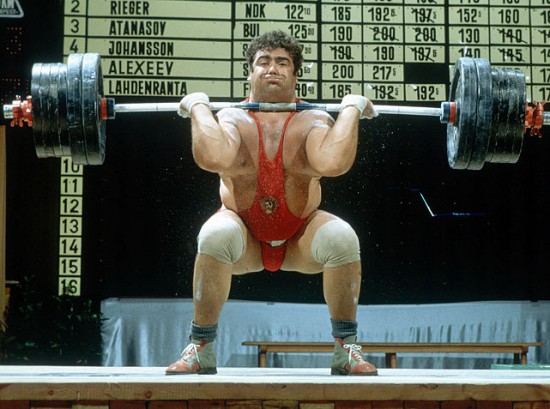 Russia's Vasily Alexeyev completes a Clean & Jerk during a weightlifting competition in 1969. Alexeyev set 80 world records between 1970 and 1977, and is widely considered the greatest heavyweight weightlifter of all time.
Greg Olson – World Series Game 1, Oct. 19, 1991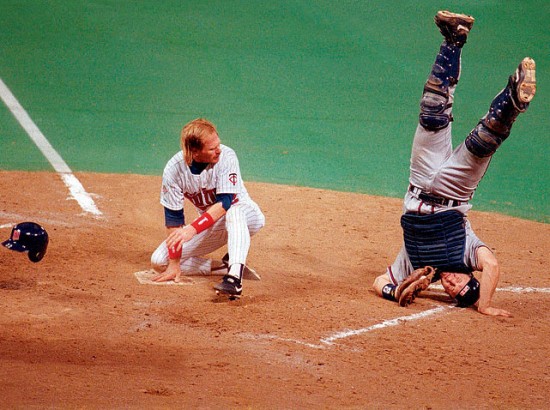 Atlanta Braves catcher Greg Olson goes head over heels after tagging Minnesota left fielder Dan Gladden out at home during Game 1 of the 1991 World Series. The Twins would win Game 1, 5-2, and go on to win the Series in seven games.
Joe DiMaggio – Yankees at Senators, June 29, 1941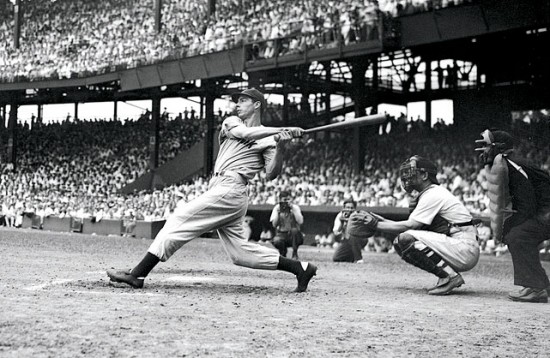 Yankee great Joe DiMaggio takes a hack against the Washington Senators during his 1941 AL MVP season. He hit .357 with 30 home runs and 125 RBI during the year.
Chuck Bednarik and Frank Gifford – Eagles at Giants, Nov. 20, 1960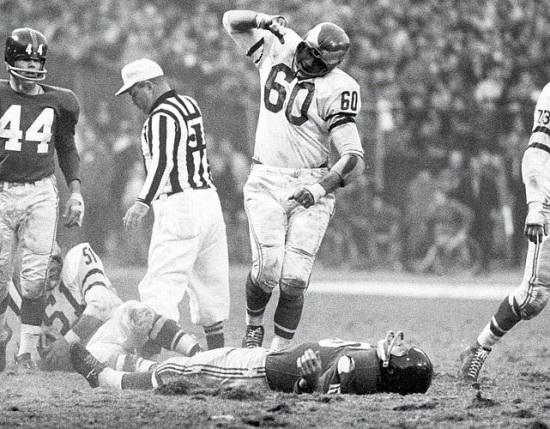 Philadelphia Eagles linebacker Chuck Bednarik celebrates after laying out New York Giants running back Frank Gifford at Yankee Stadium. The hit forced Gifford to temporarily retire from football.
Joe Namath – Bills at Jets, Dec. 8, 1974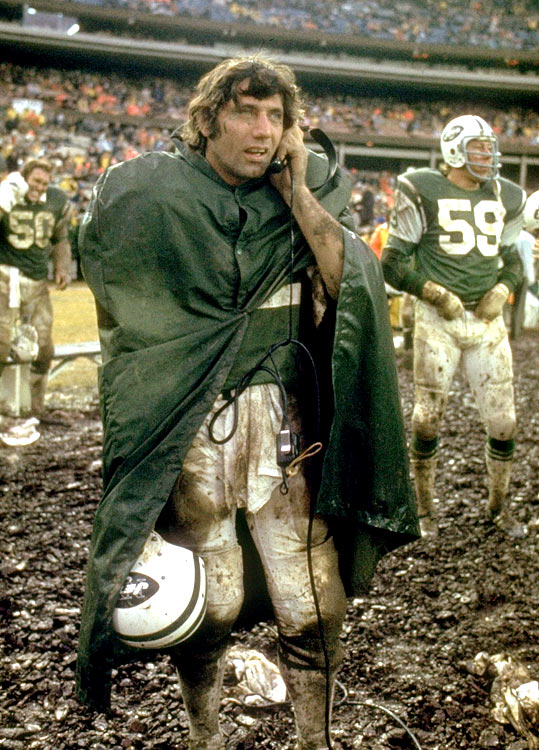 New York Jets quarterback Joe Namath listens on the sidelines during a messy New York Jets-Buffalo Bills Game. The Jets would win 20-10 behind Namath's 131 yards and two passing touchdowns.
Muhammad Ali and Sonny Liston – May 25, 1965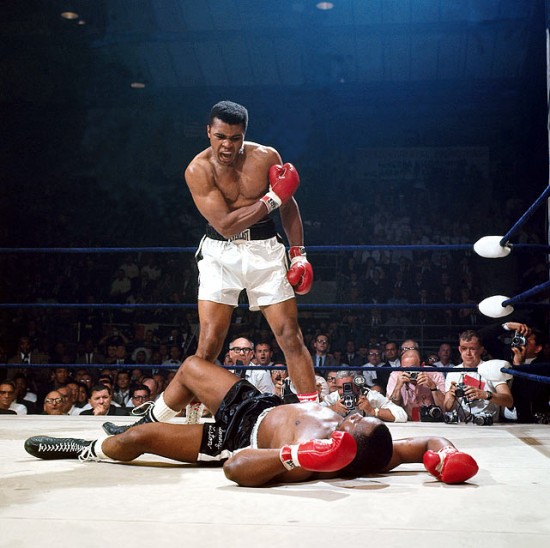 In their heavyweight title rematch Ali defeated Liston by knockout in the first round. Ali would hold the heavyweight title until 1967, when he was stripped of it for refusing to be drafted into the Army.
Brandi Chastain – Women's World Cup, July 10, 1999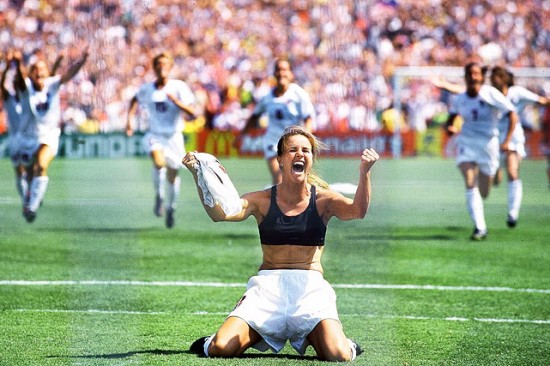 U.S. women's soccer player Brandi Chastain exults after kicking the World Cup-winning penalty kick in the 1999 Women's World Cup final.
Julien Leparoux and Sanibel Storm – Keeneland Race Course, April 28, 2006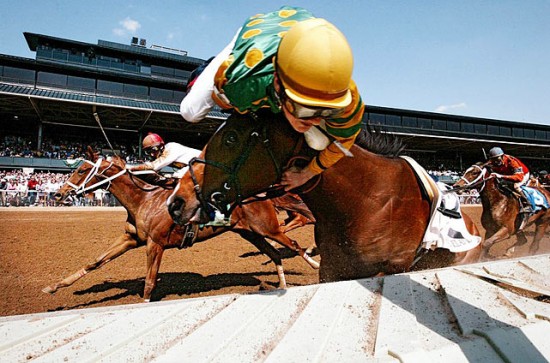 Jockey Julien Leparoux tries to hold on to the bridle as he is catapulted off Sanibel Storm, which hit the rail during the stretch run. The jockey and horse were both uninjured.
Michael Jordan – All-Star Weekend, Feb. 6, 1988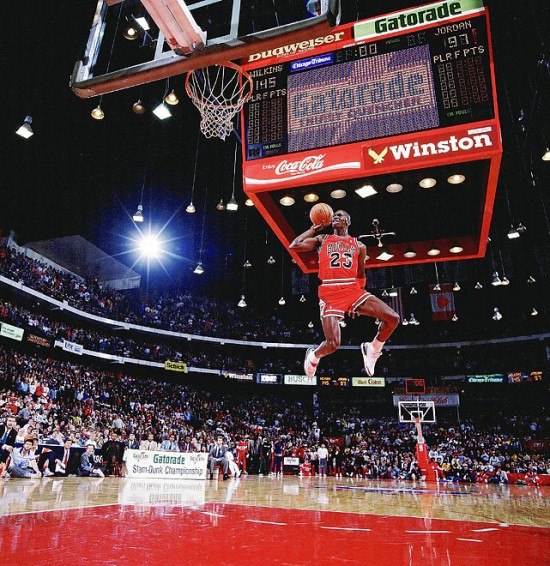 Air Jordan takes off from the free throw line and soars to a perfect score of 50 to defeat Dominique Wilkins in the finals of the Slam Dunk Contest. It was the second straight title for the Bulls star, and the '88 contest is widely considered the best ever because of the duel between Jordan and Wilkins.
Kyle Whitaker – Dodge National Circuit Finals Rodeo, March 17, 2005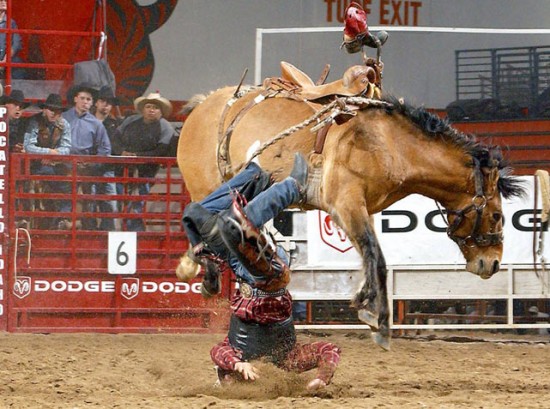 Kyle Whitaker of Chambers, Neb., loses his boot as he is bucked off Dump Wagon at the Circuit Finals Rodeo in Pocatello, Idaho. Whitaker would finish 22nd out of 24 competitors in the saddle bronco riding.
John Havlicek and Chet Walker – Eastern Conference Finals, April 15, 1965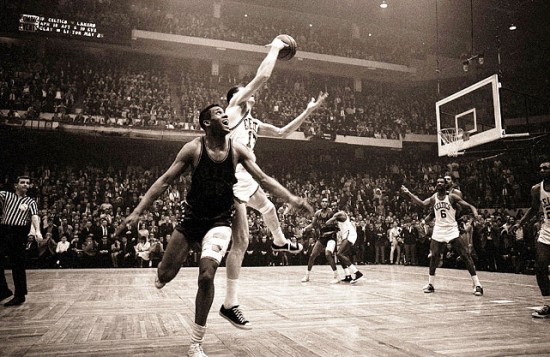 Leading 110-109, Boston Celtics guard John Havlicek stole the ball on the inbounds pass from the Philadelphia 76ers to secure the Celtics victory. The Celtics would go on to the NBA Finals, where they would defeat the Lakers in five games.
Joe Montana – Super Bowl XXIII, Jan. 22, 1989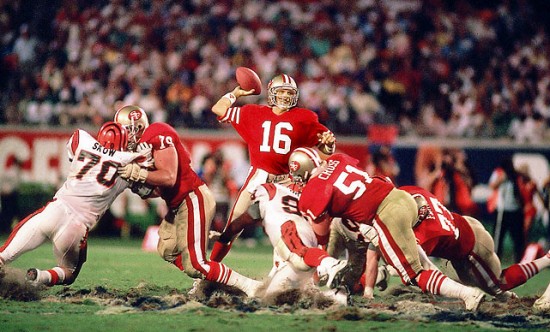 San Francisco 49ers quarterback Joe Montana leads his team down the field in the closing minutes against the Cincinnati Bengals in Super Bowl XXIII. With only 3:10 left in the game, Montana marched the 49ers 92 yards down the field to beat the Bengals 20-16.
Lew Alcindor – FInal Four, April 1, 1968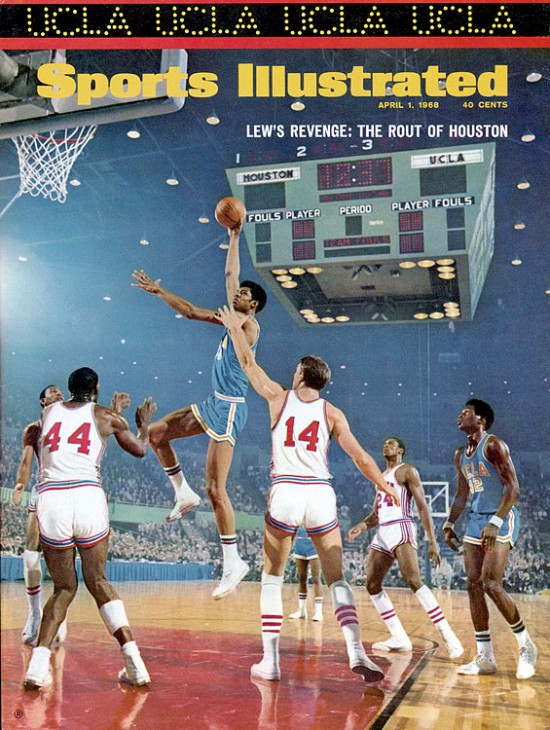 Lew Alcindor shoots his trademark skyhook as UCLA drubs Houston 101-69 in the national semifinals. Houston beat UCLA in January in what was dubbed "The Game of the Century," but Lew Alcindor and the Bruins got the last laugh en route to the second of what would be seven straight national titles.
Magic Johnson – Lakers vs. Celtics, Oct. 22, 1991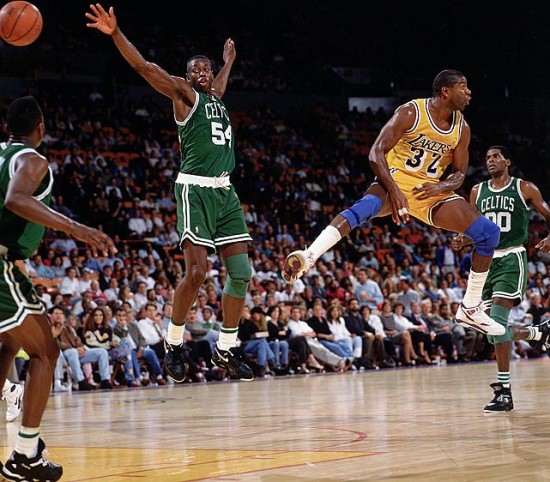 Lakers point guard Magic Johnson tosses a no-look pass past Celtics forward Ed Pinckney during a preseason game. About two weeks later, Johnson announced he was HIV-positive and retiring from basketball.
Michael Phelps – Beijing Olympics, Aug. 16, 2008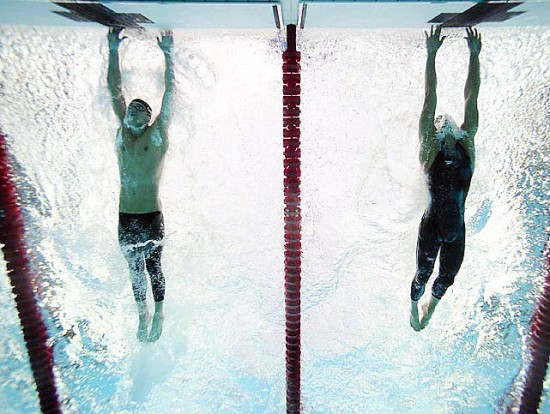 American swimmer Michael Phelps out-touches Serbian swimmer Milorad Cavic by 0.01 seconds at the finish of the 100-meter butterfly final. It was the seventh of Phelps' record eight golds during the Olympics.
Mike Tyson and Evander – Holyfield Heavyweight Bout, June 28, 1997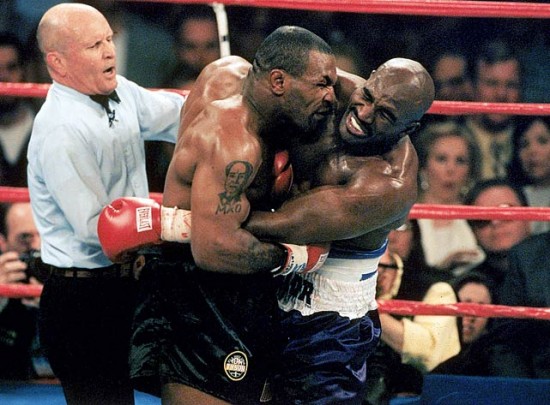 Mike Tyson bites the ear of Evander Holyfield during their 1997 heavyweight fight. Tyson's boxing license was temporarily revoked for the incident and he was fined $3 million.
Nadia Comaneci – Montreal Summer Olympics, Aug. 2, 1976

Nadia Comaneci of Romania completes a somersault during the 1976 Summer Olympics in Montreal. Comaneci was the first gymnast to ever be awarded a perfect score in an Olympic gymnastic event, and in total, won three gold medals in Montreal.
Michael Jordan – Bulls at Jazz, Game 6, 1998 NBA Finals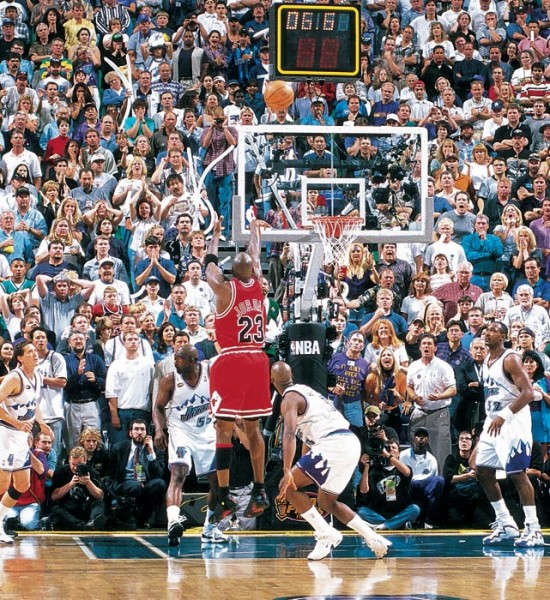 Michael Jordan's game-winning buzzer beater is possibly the most memorable shot of his storied career. Jordan retired six months later, but returned to the NBA in 2001 with the Washington Wizards.
Pittsburgh Pirates Fans – 1960 World Series, Oct. 13, 1960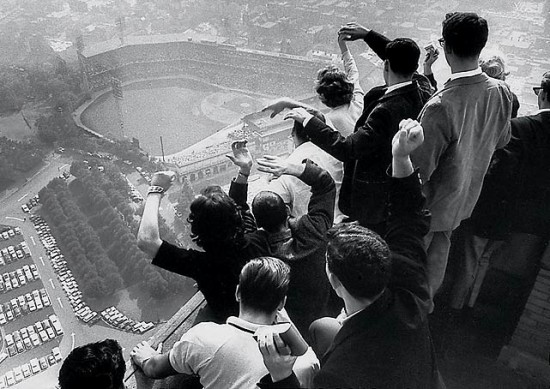 University of Pittsburgh students cheer as they look down on Forbes Field from the top of their campus's Cathedral of Learning as the Pirates are winning their first World Series in 35 years against the Yankees. In Game 7, Bill Mazeroski hit the first walk-off home run in World Series history, a shot over the left-field fence that gave the Pirates a 10-9 win.
Matthias Steiner – London Olympics, Aug. 7, 2012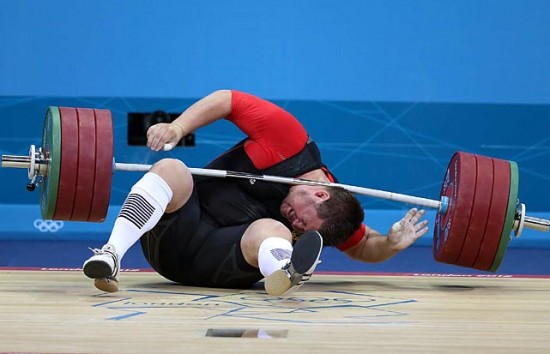 Defending Olympic weightlifting champion Matthias Steiner of Germany lost his balance while trying to lift about 432 pounds and was hit in the neck by the barbell. He got up on his feet and waved to the crowd but later withdrew from the competition.
Reggie Bush – USC vs. UCLA, Dec. 3, 2005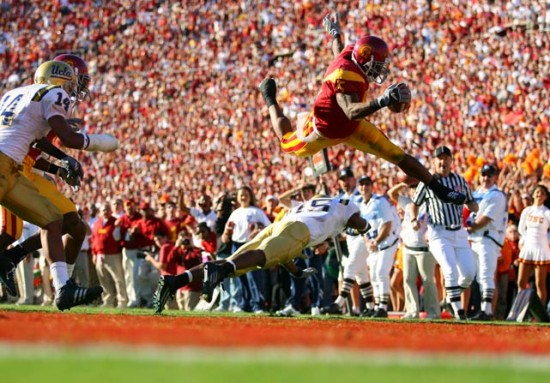 USC running back Reggie Bush jump over UCLA defender Marcus Cassel and into the end zone for a touchdown. Bush's spectacular season earned him the 2005 Heisman Trophy, but the award was later stripped because Bush had received illegal benefits during his time with the Trojans.
Tommie Smith and John Carlos – Summer Olympics, Oct. 16, 1968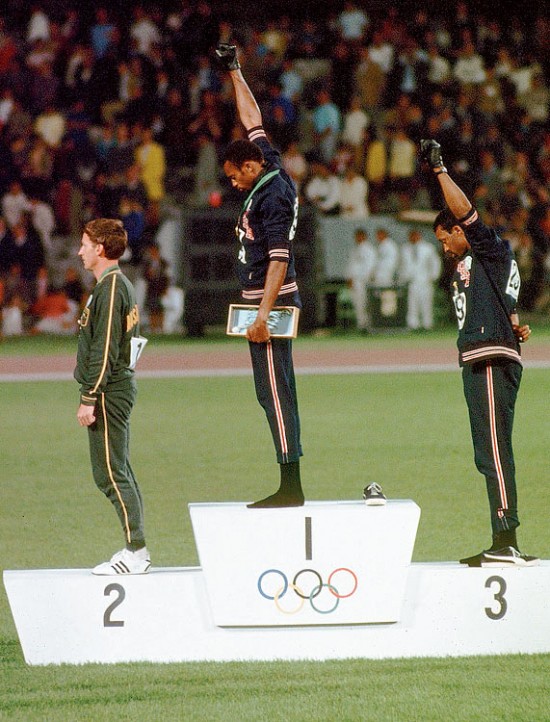 American sprinters Tommie Smith (center) and John Carlos (right) raise their black-gloved fists on the Olympic medal podium in Mexico City to signify Black Power. Smith, the gold medalist in the 200-meter race, and Carlos, the bronze medalist, were kicked out of the Games for their overtly political statement.
U.S. Hockey – 1980 Olympics, Feb. 22, 1980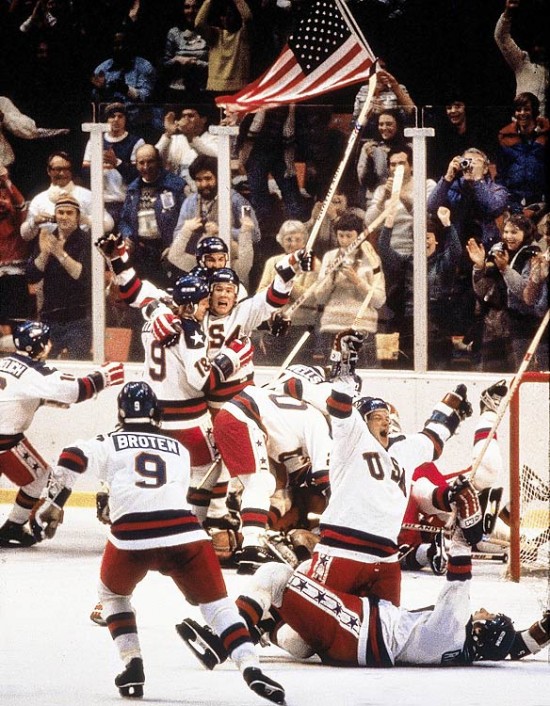 The impossible had been accomplished, and it was time to celebrate. The United States upset the unbeatable Soviet Union 4-3 on Mike Eruzione's game-winning goal to finish Miracle on Ice and advance to the gold medal game (which it also won).
Referee Jack Vaughn – Eagles at Bears, Dec. 31, 1988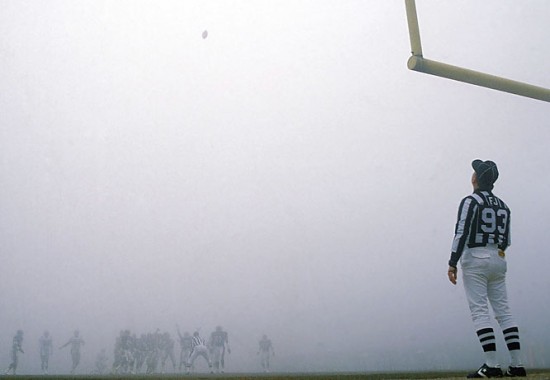 Referee Jack Vaughn tries to follow a field goal attempt from Eagles placekicker Luis Zendejas during the Fog Bowl, a 1988 NFC divisional playoff game between the Eagles and the Bears in Chicago, Ill. A heavy sheet of fog rolled over Soldier Field during the second quarter, cutting visibility to around 10-20 yards for the remainder of the game.
Bob Beamon – Summer Olympics, Oct. 18, 1968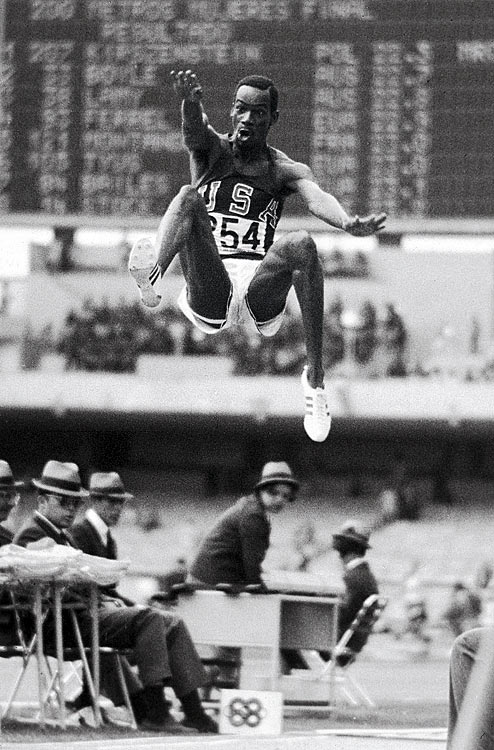 U.S. track and field athlete Bob Beamon flies through the air during his world record long jump of 8.9 meters at the 1968 Summer Olympics in Mexico City. Beamon's jump, which inspired a new adjective for spectacular feats ('Beamonesque'), stood as the world record for 23 years.
Pete Rose – Reds vs. Cubs, August 1975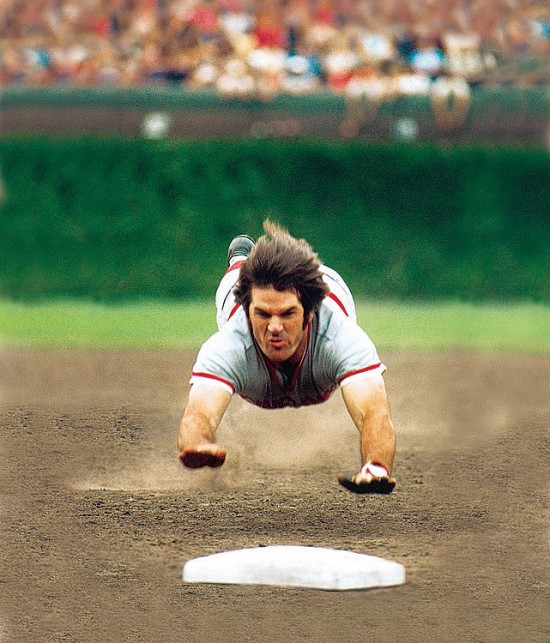 Cincinnati's Pete Rose dives into third base in a game with the Cubs at Wrigley Field. Baseball's all-time hits leader, Rose was 4-for-9 and drew eight walks during the series with Chicago.
Via: sportsillustrated.cnn.com