Just like how Oreo took advantage of the black out during Superbowl, other brands are taking advantage of the controversy around Luis Suarez today.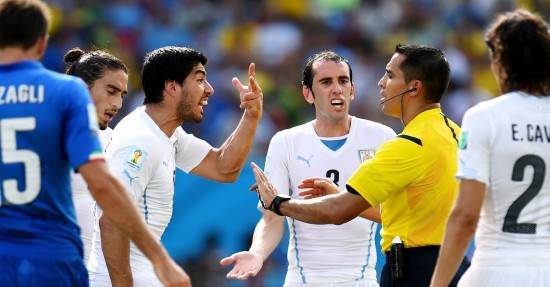 Luis Suarez, one of Uruguay's top soccer players, apparently bit a defender on Italy's team during their match today. Just minutes after the incident, McDonald's official Twitter account in Uruguay tweeted at Suarez to "take a bite" of a Big Mac if he's hungry.

Hola @luis16suarez, si te quedaste con hambre vení a darle un mordisco a una BigMac ;)

— McDonald's Uruguay (@McDonalds_Uy) June 24, 2014
Other brands quickly jumped on board!
Chew Trident. Not soccer players. #ITAvsURU

— Trident Gum (@tridentgum) June 24, 2014
I think it's safe to say Uruguay was hungry for the win.

— TGI Fridays (@TGIFridays) June 24, 2014
This can be your dinner… ITALIAN FLANK STEAK PINWHEELS: http://t.co/pyZoJUMm9c #WFMdish

— Whole Foods Market (@WholeFoods) June 24, 2014
If only Suarez had Whataburger before the game he wouldn't be so hungry.

— Whataburger® (@Whataburger) June 24, 2014
Biting is only okay when you're made of cinnamon and sugar. #BanSuarez #WorldCup pic.twitter.com/SPsWYih153

— CinnamonToastCrunch (@CTCSquares) June 24, 2014
Hey @luis16suarez. Next time you're hungry just grab a Snickers. #worldcup #luissuarez #EatASNICKERS pic.twitter.com/3RAO537HjW

— SNICKERS® (@SNICKERS) June 24, 2014