What comes to mind when you think of theme parks? Towering rollercoasters? Beautiful Disney-style castles? Overpriced food and drink? It's fair to say that parks in the West tend to stick to a well-oiled formula in order to entertain their guests.
China's theme parks are a different breed. Whether they are engaging in rampant copyright infringement, re-using military infrastructure or building entire armies out of chocolate, they always have something different to offer visitors. Here's a selection of 5 of the most off-the-wall theme parks that the world's newest superpower has to offer.
1. Minsk World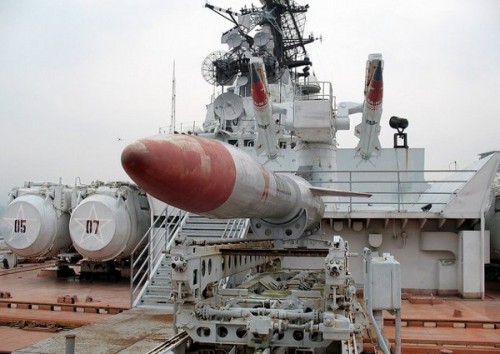 Image: Minsk World.jpg (Source:Philip Roeland, Flickr)
Half-amusement park, half-museum, Minsk World is built around the former Soviet aircraft carrierMinsk. In addition to viewing traditional exhibits such as aircraft and former operational areas of the carrier, visitors can also witness more unusual sites such as music and dance routines held on its deck. While it features few elements that would be seen at a Disney or Six Flags property, the self-styled "military theme park" in Shenzhen does at least offer motorboat rides around the carrier's starboard side.
2. Angry Birds playground at Window of the World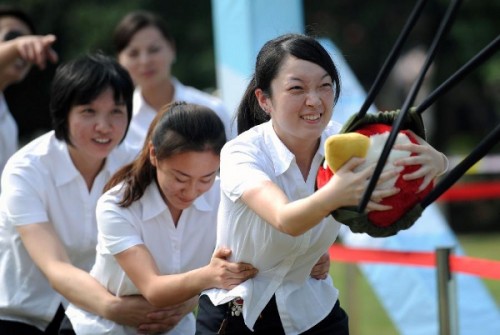 Image: Angry Birds theme park.jpg (Source: China.org.cn)
Window of the World, also located in Shenzhen, is a genuinely impressive theme park that features reproductions of famous landmarks all over the globe. However, its most infamous attraction is its Angry Birds playground, based on the smash-hit smartphone game that millions of iPhone and Android users will be familiar with. Not officially endorsed by the game's creator, Rovio, it allows players to use a real catapult to shoot toy birds at pig-shaped balloons located around a mock brick fortress. Those hoping to relive the Angry Birds experience in the real world need to hurry though – the area is due to close in fall 2011.

3. World Chocolate Wonderland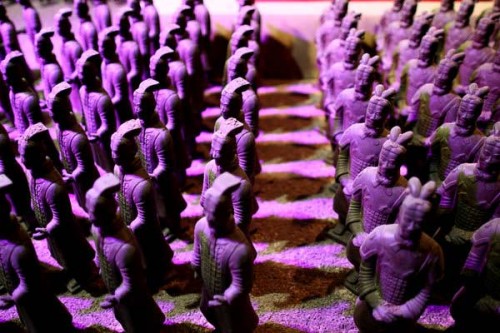 Image: World Chocolate Wonderland.jpg (Source: China.org.cn)
Few theme parks are blessed with a more tempting theme than World Chocolate Wonderland, and the park does its best to live up to its name. Opened in January 2010, it features exhibits that are literally made of chocolate: 176,000 pounds of the stuff. Drooling visitors can view such attractions as the world's largest chocolate model of theGreat Wall of Chinaand a tasty recreation of the legendary Terracotta Army. Due to its unique nature, though, the park only operates between January and April; any longer, and its attractions would melt.
4. World Joyland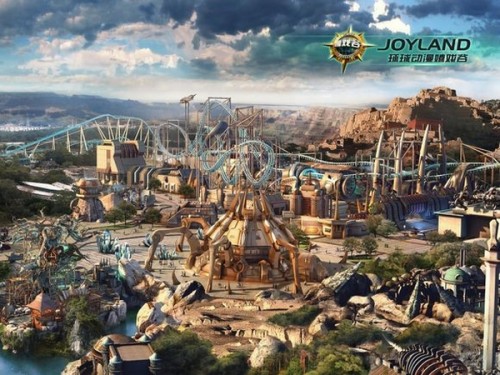 Image: World Joyland.jpg (Source: aylives.com)
In a country in which massively multiplayer online games are spectacularly popular, it was perhaps inevitable that someone would eventually try to merge fantasy with reality. World Joyland attempts to do just that, offering guests the chance to step into recognisable locations from smash-hit Blizzard games including World of Warcraft and Starcraft. A seemingly significant amount of money has been lavished on the park's attractions, with three rollercoasters included in the line-up. The budget, though, did not stretch to actually licensing the rights to Blizzard's creations. Indeed, the park's true theme appears to be copyright infringement, though it cunningly attempts to mask this with oh-so-different names such as Terrain of Magic and Universe of Starship. Don't forget to pick up a souvenir from the handily-placed "Disney Store" near the park's entrance!
5. Kingdom of the Little People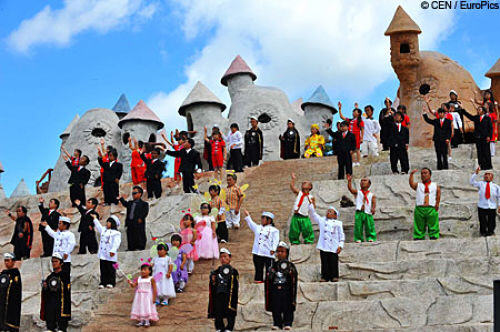 Image: Kingdom of the Little People.jpg (Source: yellow-menace.com)
While a number of organizations are lining up around the block to criticize Kingdom of the Little People, it is certainly isn't shy about its "theme". The park only employs people with dwarfism, mandating that they must be no taller than 51 inches (130 cm). They take part in "comic" performances, while pretending to live in mushroom-shaped houses. Described by some as a "human zoo" and heavily criticised by the Little People of America organization, the park's defense is that it provides employment that would not be on offer elsewhere. Still, it's hard to see this concept being picked up in Western countries any time soon.