If you want to spice up your dining experience, here are some suggestions for places you can dine on:
1. Cannibalistic Restaurant in Japan (Nyotaimori)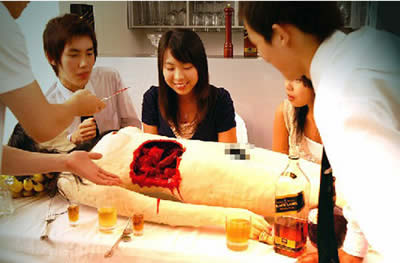 As the literal meaning of the name suggests (female body plate), you'll be dining on a dead woman's body. Well, obviously this one's edible and synthetic. It's like eating on an operating room as their tables and chairs are designed like operating room tables. This restaurant is appropriate for people who actually want to experience what it is like to operate like surgeons. But this one's not for the weak hearted.
2.  Toilet Restaurant in Taiwan (Marton Theme Restaurant)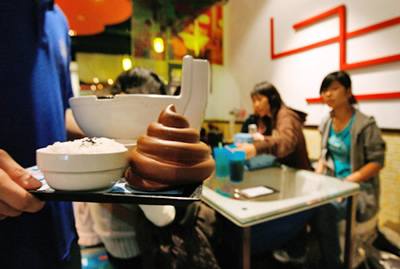 When one enters the restaurant, the last thing that they'll be thinking about is to eat. But ever since it opened, it has already become a major attraction in Taiwan. This restaurant will let you sit on a toilet bowl, dine on a bathtub table, eat on a male urinal shaped bowl, eat poop-shaped food, and urine-colored juice. This restaurant will be for those people who find comfort in comfort rooms.
3. Sky Restaurant in Belgium (Dinner in the Sky)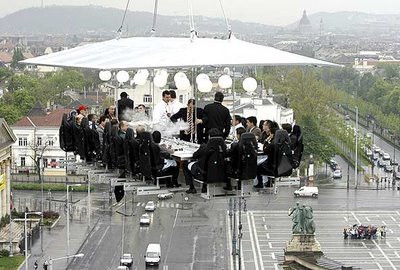 Imagine being able to dine with birds 150 feet in the air! This restaurant will take you on a sky high experience, literally. Although this restaurant costs a fortune, this is a very good way to impress someone on a first date. Just make sure your date is not acrophobic.
4. Dark Restaurant in China (Pitch-Black Restaurant)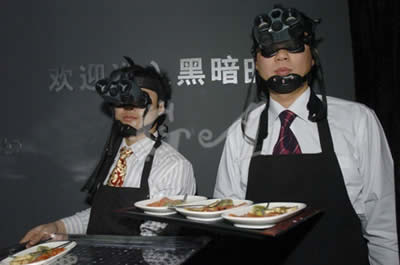 It has been said that if you remove one or more senses, the other ones remaining will be stronger; in this case, this restaurant wants to enhance your sense of taste. Customers will be welcomed on a brightly lit entrance hall and will be made to choose their food then waiters with night vision goggles will assist them in a complete dark room. When asking someone to dine with you in this restaurant, the best question to ask will be, "Are you afraid of the dark?"
5. Dwarves Restaurant in the Philippines (Hobbit House)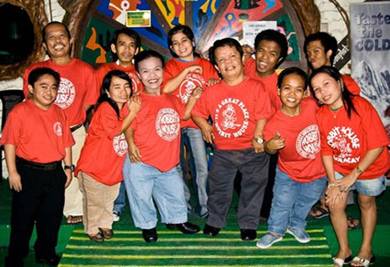 If you ever want to meet the smallest waiters in the world, visit this restaurant in Manila, Philippines. All the staff are people with dwarfism. Don't think that you'll be entering a Lord of the Rings themed restaurant. It's even better! Be greeted by extra hospitable waiters so don't you dare cut their tips into half.
6. Condom Restaurant in Thailand (Cabbages and Condoms)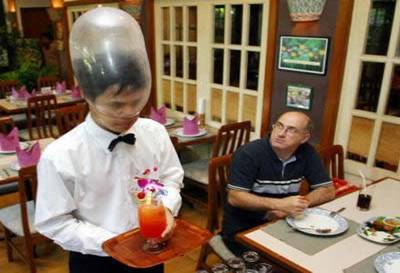 Visit the only restaurant in the world that promotes Safe Sex! After dinner, you'll be sure to remember to bring one as images of condoms are printed all over the place and hanged all over the walls. Part of the profits for this restaurant will go to an organization that promotes family planning.
7. Military Restaurant in Lebanon (Buns n Guns)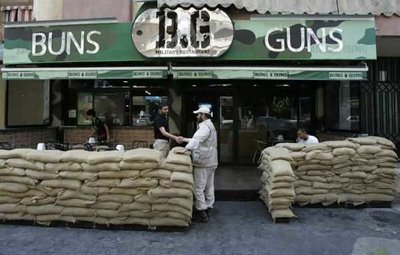 This restaurant in Lebanon reflects the country's war with Israel on 2006. Everything is military- themed. From the decorations they have to the foods they serve, you'll get the feel of being in a military bunk. Imagine ordering sandwiches named after guns like M16, mortar or terrorists. This restaurant really lives up to their slogan, "Sandwiches can kill you!"
8. Medical Restaurant in Taiwan (DS Music Restaurant)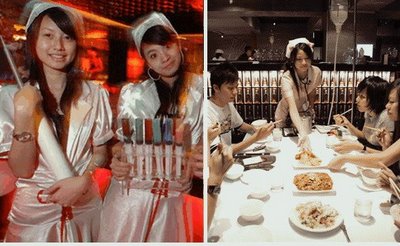 A lot of people complain about hospital food. This restaurant would like to eradicate that perception. Be served by waitresses dressed as nurses with food on a hospital table and drinks dripping from IV bottle. Just be ready to get sick as their foods will make you crave for more!
About the author: Guest Post by Catherine P. who writes on behalf of w3Toledo, a web design and Toledo seo firm that recommends this Toledo storage facility.