Donald Trump, once again, is the laughing stock of Twitter! He was tricked into tweeting a picture of two serial killers.
This brilliant prank began by a tweet from Phil Bradbury, asking Trump for a favor:
https://twitter.com/feckhead/status/516548260794998784
And since Mr. Big Ego loves to show how much his fans love him, he quickly retweeted @feckhead's tweet!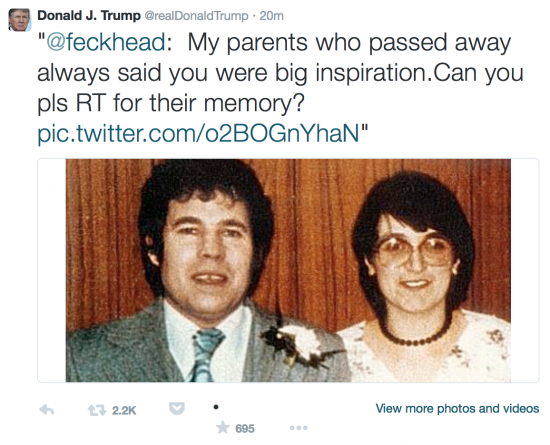 The picture was obviously not Bradbury's parents', but instead, it's a picture of Fred & Rose West, who tortured and raped numerous young women and girls, murdering at least 11 of them, including their own family members!
Other users were quick to take advantage of Trump's mistake, requesting retweets for their own villainous "family members."
https://twitter.com/George_Berridge/status/516559459058200576
https://twitter.com/OffencePolice/status/516560041663815680
https://twitter.com/JamesLiamCook/status/516558503868379136
.@realDonaldTrump My grandad loved you. He's dead now (we think) RT? pic.twitter.com/y8fDV5bOAT

— Jake Lambert (@LittleLostLad) September 29, 2014
After figuring out the prank, Mr. Butthurt tweeted that some "jerk" tricked him and maybe he will sue him!
Some jerk fraudulently tweeted that his parents said I was a big inspiration to them + pls RT—out of kindness I retweeted. Maybe I'll sue.

— Donald J. Trump (@realDonaldTrump) September 29, 2014
I thought I was being nice to somebody re their parents. I guess this teaches you not to be nice or trusting. Sad!

— Donald J. Trump (@realDonaldTrump) September 29, 2014
Relax, Donald, maybe instead of suing everyone you should just laugh and get over yourself.